Our History:
On June 12, 1902 several ladies met at the home of Charles H. Biel to organize a Sunday School. The school met in the Union Hall at Third & Merchant.

July 12, 1902: The first worship service led by Rev. W. W.Killough and services were held once a month. The first Sunday School Superintendent was A. H. Chadwell.

With a total of 12 members, on October 12,1902, the church became organized by a commission of the Potosi Presbytery.

A lot was purchased to build a church building at South Main and Gabouri streets in 1902 for the sum of $300. The church building was erected in 1904 for $2300. The largest part of the church debt was paid by the Ladies Aid Society along with a gift of $400 from the Presbytery.

The pulpit and 3 chairs were donated by the Cape Giradeau Church and 100 chairs were purchased from the St. Louis World's Fair. The chairs were bought from St. Louis by river boat. Several years later the Willing Workers, a group of 8 young women, purchased pews for the cost of $140.

In 1930 a basement was added to the church to fulfill the need of a Sunday School room. An annex was made in 1954, giving more class rooms and a new kitchen. The sanctuary was renovated in 1961 and air condition installed in 1968.

The Great Flood of 1993 threatened to destroy the church but due to the diligence of volunteers, only the basement flooded and worship was disrupted for 8 weeks.

First Presybterian Church of Sainte Genevieve continues to serve the Lord with the same enthusiasm of the founding women whose vision built a church.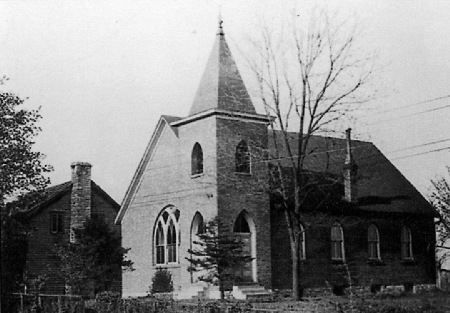 First Presbyterian Church before the addition of the Annex.